OR USE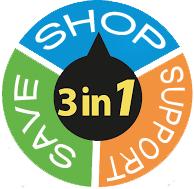 SHOP, SAVE and SUPPORT FEA

You already shop online, so why not support FEA at the same time!
Now you can shop thousands of online stores, many of which you already shop at.
In collaboration with ChameleonJohn.com you can now contribute to a cause you care for,
while shopping the way you are used to, and saving money in the process.
Save Money and Support the Foundation for
Equestrian Athletes
SHOP & SUPPORT NOW
Shop online and save money at thousands of stores. Get valuable coupons and save up to 70%. A small portion of each sale goes to support FEA.
---
Disclaimer: FEA, Amazon.com and CameleonJohn.com are not related to each other except for the purpose mentionned here.
The only relationship is that when you purchase an item on Amazon.com or at any store throughout the Cameleon.com network using the FEA link, FEA receives a small portion of the sale. Collaborations of this type help cover our operation costs and allow us to get a step closer to our goal of using 100% of actual donations to support our different programs.
If you would rather contribute in other ways, please see our FEA Contributions page.
---